As established in Chapter 1, the places the English called Agawam, Chebacco, Wingaersheek, and Wonasquam describe different portions of eastern Essex County and originated as Abenaki-based Algonquian place names. The place names originally referred to villages rather than sovereign territories, but were expanded by the English to describe putative tribal territories.1 Thus "Agawam", in addition to being the name of a principal village, was the name given to the area between the Merrimack River and Salem Harbor within the jurisdiction of the sagamoreship led by Masquenominet at the time of contact. This wider area encompassed the shores and fresh and salt marshes of the estuaries and bays of the Annisquam, Essex, Ipswich, Rowley, and Parker rivers and their tributaries, as well as Plum Island and Plum Island Sound.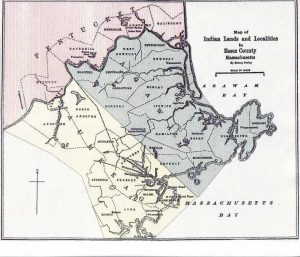 Perley's Map of Indian Lands
Sidney Perley's 1912 Map of Indian Lands, based on colonial records, shows three divisions of Indian territory in Essex County: Pentucket, with a principal village at Haverhill, was "at the bend in the big tidal river", referring to the Merrimack where it bends to the east and branches south as the Concord River; Agawam, including Cape Ann, was "beyond the marsh" or "other side of the marsh" along the shore; and Naumkeag (Nahumkeak) encompassed Beverly, Peabody, Middleton, Danvers, Salem, and Marblehead.2
The three regions on Perley's map were all occupied by the Pawtucket in common tenancy. It was a misconception of colonial observers that these were discrete sovereign territories. There actually were no Pawtucket tribes. Placenames named only rivers and the villages upon them and by extension the sagamoreships occupying them. The English interpreted those names within their own political frame of reference to mean sovereign tribes or nations, and the native leaders as chiefs or kings. A sagamore, however, was just the head of an alpha lineage or high-status family, the group leader and representative of their shared lineage, identified by a sacred ancestor in the form of a spirit or animal totem. Sagamoreships were inherited father to son, occasionally to widow or daughter. A sachem, on the other hand, was the chosen leader of several related or confederated sagamoreships or bands. Thus the two terms, sachem and sagamore, were not synonymous as is sometimes claimed or assumed. Pawtucket social organization is explored in greater detail in Chapter 6.
Prior to contact by 500 years or more, the people had permanent and semi-permanent agricultural settlements on uplands associated with the estuaries of the rivers emptying into Ipswich Bay. Large Pawtucket coastal agricultural villages attested in early accounts as occupied at the time of first contact included Quascacunquen (Kwaskwaikikwen, Indian Hill, West Newbury), Agawam (Castle Neck, Ipswich), Wenesquawam (Wanaskwiwam, Riverview, Gloucester), and Naumkeag (Nahumkeak, Salem-Beverly).3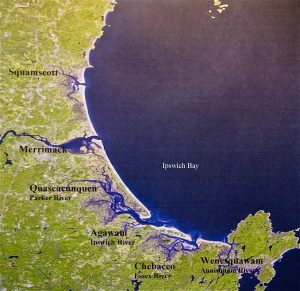 Coastal Villages on Ipswich Bay
Quascacunquen, for example, is preserved as the name of the Parker River in a 1640 map of Newbury, which also identifies Indian Hill at the headwaters of the Artichoke River.4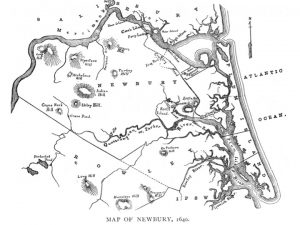 1640 Map of Newbury Showing the Parker River as Quascacunquen River and the location of Indian Hill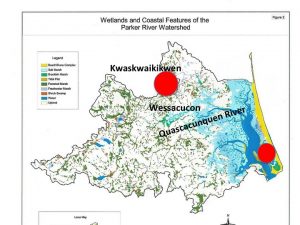 This map of the Parker River watershed shows the two names for the same village in colonial literature and how its name would appear today in Western Abenaki. The smaller red circle locates an archaeological site on Plum Island, a summer camp used by the people.
Knowledge about the exact location of Agawam Village has long been suppressed, raising questions about a conflict between the public's right to know local history and stewards' needs to protect sites from looting and desecration. In addition, some homeowners conceal finds on their property in the mistaken belief that disclosing them would somehow result in loss of property (or construction of a casino). An underworld exists of unscrupulous collectors who would not hesitate to desecrate a grave to find objects to sell in online stores. Today, the Native American Graves Protection and Repatriation Act serves to protect burial sites and sacred objects, but the state has extended secrecy about Native sites to the extent that residents did not know there were ever any Native Americans living on Cape Ann!5 Site reports of Cultural Resource Management (CRM) archaeological studies are sequestered in the Massachusetts Historical Commission's closed archives and are not made public knowledge.6
Le Baron's 1874 archaeological map shows the location of Agawam Village on Castle Neck River, on the "other side of the marsh", today called Wigwam Hill. Its neighborhoods would have included the areas around Argilla Road, Fox Creek Road, and Labor-in-Vain Road.7 Le Baron's map also shows the sites of extensive shell middens on Castle Neck, the location of Castle Island, where Masquenominet had a fort, his farm on Argilla road, his council site on Castle Hill, his early residence on Tilton Hill, his later residence on Hog (Choate) Island, and his final resting place on Sagamore Hill in South Hamilton.8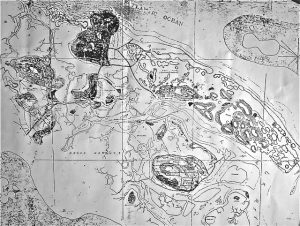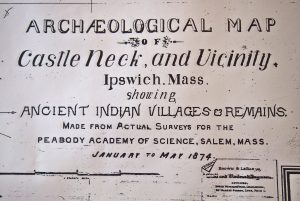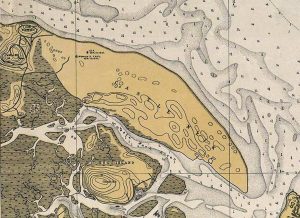 Castle Neck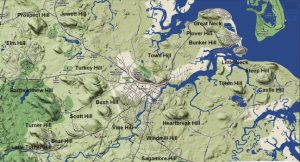 Agawam Hills
In 1631 and 1632 the Massachusetts Bay Colony sent John Winthrop Jr. and eleven other  men from Charlestown to Agawam to assess the area for a plantation, to evict English squatters—those who bought land directly from the Indians and were living there before the establishment of the Massachusetts Bay Colony—and to discourage settlement by the French, who were establishing fur trading posts along the coast. The Winthrop party helped Masquenominet repel deadly Tarrantine attacks on his fort on Castle Island, his residence on Tilton Hill, and defenders at the village on Wigwam Hill. The fort on Castle Island guarded the entrance to the Castle Neck River, a Tarrantine attack route.9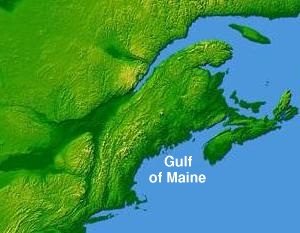 Tarrantine attack routes were from Nova Scotia and settlements on the Bay of Fundy down through the Gulf of Maine to Casco Bay,  Cape Ann, and as far as Cape Cod.
 Pawtucket defensive positions on the sea consisted of lookout towers and forts that guarded against raids from the east by the Tarrantines of Nova Scotia and the Canadian Maritimes—Mi'Kmaq, Maliseet, and Passamaquoddy. They raided their southern neighbors for corn, which would not grow at their latitudes.10 To the English colonists the wooden forts of the natives resembled medieval castles, with moats, ramparts, turrets, and parapets for dumping stones down on attackers—described in detail by Edward Winslow in 1621 on a visit to Naumkeag.11 The English called native forts "castles", and there are sites all up and down the coast bearing placenames with the word castle in them. There are several instances of Castle Hill, Old Castle, Castle Point, Castleview, and Castle Island, for example, from Maine to Maryland. In each locality, it is likely that a fort guarded a river entrance, ringed with strategically placed watchtowers.
In 1634, Masquenominet complained to the Massachusetts General Court that Charlestown's hogs were destroying Indian corn, and the Court decreed in 1636 that hogs had to be kept fenced or impounded on islands.12 In 1637, following another Tarrantine attack in which colonists helped to defend him, in gratitude Masquenominet signed a deed granting his farmland between Chebacco Creek and Labor in Vain Creek (known historically as Argilla Farm) to John Winthrop Jr.13 Then in 1638 Masquenominet signed another deed granting Winthrop all the rest of Greater Agawam for the establishment of the English colony of Ipswich. In that deed "Agawam" extends from the Merrimack River to the Saugus River, and from the Concord River on the west to Cape Ann on the east and Salem on the south.14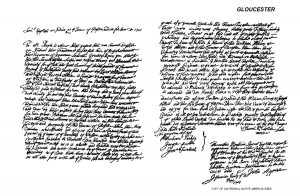 Masquenominet's First Deed, readable on Salem Registry of Deeds web site.
In 1700, with the aid of magistrates Joseph Foster and Moses Parker, Masquenominet's grandchildren filed suit in the Mass Bay Colony General Court against Gloucester and other towns in an effort to receive final installments on sections of land Masquenominet had originally sold to them in aggregate. They won their case, and the General Court ordered Gloucester to pay a final installment in cash in the amount of £7 to Masquenominet's heirs in exchange for clear legal title to Gloucester and Essex. The heirs included Samuel English and his wife Susannah, Joseph English, John Umpee, and Jeremiah Wauches and his wife Bettey.15 Interestingly, Gloucester's official history does not mention the facts of this case, only that in 1701 Samuel English redeeded 10,000 acres to Gloucester for £7. Other towns, such as Wenham, countersued in the Mass. Supreme Judicial Court, claiming that their original Indian deed was valid, and lost.16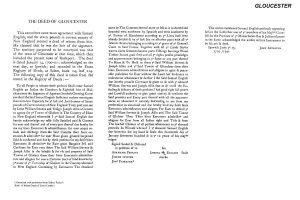 1700/1701 Deed to Cape Ann (Gloucester, Rockport, Essex), readable on Salem Registry of Deeds website.
Wanaskwiwam
The part of Greater Agawam called Wenesquawam (Wanaskwiwam), which Josselyn and others referred to as Wonasquam, likely included a village by that name in Riverview on the Annisquam River as well as the region of present-day Gloucester and Rockport, inclusive of the river islands, harbor and back shore, Rocky Neck, Eastern Point, Riverdale, Annisquam, Bay View, Lanesville, Dogtown, Andrews Point, Pigeon Cove, Old Garden, Land's End, West. Gloucester, and other neighborhoods. The area called Wingaersheek (Wingawecheek) likely included a settlement on the Jones River Saltmarsh, incorporating the dunes of the beach by that name as well as Coffin's Beach and the islands on the eastern shores of Essex Bay, such as Cole's Island.17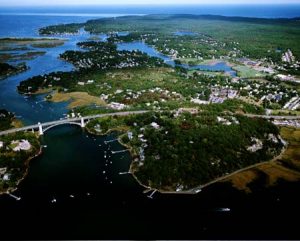 Location of Wanaskwiwam in Riverview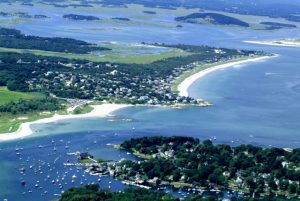 Location of Wingawecheek 
Based on archaeological evidence, especially the excavations of N. Carleton Phillips and Frank Speck, Wanaskwiwam was in Riverview near Curtis Cove just north of Pole Hill.18 Families also occupied campsites on the river islands (Rust Island and Pearce Island in particular), Planter's Neck overlooking Lobster Cove in Annisquam, Fishermen's Field on the harbor (as shown on Champlain's map), and on other coves ringing the cape. Native planting grounds—for maize cultivation requires frequent shifting to new ground with fresh soil—would have been, for example, in Gloucester's Riverdale on Mill River, along Cherry St., above Old Garden Beach in Sandy Bay, and behind Wingaersheek Beach along Atlantic St. Families also occupied resource procurement sites in West Gloucester on Little River and Jones River and on the islands of Essex Bay. The Pawtucket were growing corn at these sites. John Endecott purchased "hoed ground" from the Indians on Cape Ann.19 Settlers of Gloaster Plantation gave the name Cornhill Street to what was later named Middle Street20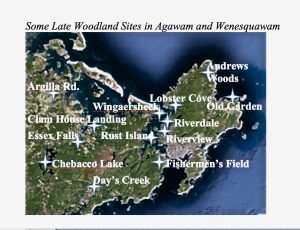 As explained in Chapter 1, the earliest documentary evidence for Wanaskwiwam is as Wenesquawam in the Egerton Manuscript in the British Library, an anonymous explorer's account pre-dating 1610 entitled "Ye Names of Ye Rivers and Ye Sagamores Yte Inhabit Upon Them". The name Wonasquam is later attested in Capt. John Smith's 1624 map of New England, William Wood's 1635 map, and John Josselyn's accounts of his voyages to New England.21 Documentary evidence for an Indian village by that name is also found in the travel journal of John Dunton, a London bookseller scouting out the new American market for his wares.22 Dunton wrote in 1686 that he took a trip from Ipswich to Gloucester to see an Indian village called Wonasquam, which he reported to be in grave decline. He wrote in his letter:
After a long and difficult ramble [on the Agawam Trail from Ipswich to Gloucester, led by native guides], we came at last to the Indian town call'd Wonasquam. It is a very sorry sort of town, but better to come to it by land instead of by water, for 'tis a dangerous place to sail by, especially in stormy weather.23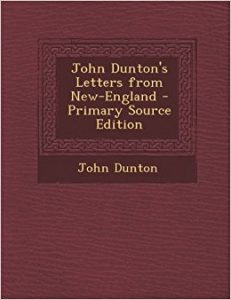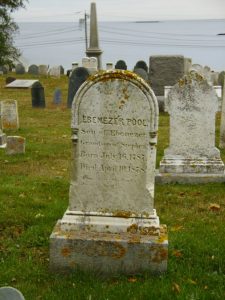 John Dunton                                          Ebenezer Pool
During his visit, Dunton encountered natives wearing the black facepaint of mourning and claims to have attended a funeral and ritual burial in honor of a very important but  unidentified sagamore near Wonasquam Village. His description of funeral rites is similar to one written decades earlier by the Rhode Island colonial governor Roger Williams, who had witnessed an Algonquian burial in Agawam. It has been suggested that Dunton plagiarized Williams' account, but nothing else in his journal points to any desire to sensationalize his travel experiences, and it would not be unusual for two descriptions of the same ceremony to be similar.24
There may well have been a mourning ceremony in Wonasquam in 1686 when Dunton was there. That was the year Wonalancet, Passaconaway's son, died and Passaconaway's grandson Kancamagus sold the last of the Pennacook homelands to the English. Passaconaway had famously and peacefully led a confederacy of Pennacook-Abenaki bands and tribes, including the Pawtucket of Wamesit and Agawam, from the beginning of the Contact Period to around 1669. John Owufsumug also died in 1686—the son-in-law of Sagamore George, the youngest son of the famous sachem Nanepashemet, who had led the Pawtucket, Nipmuc, and others prior to English settlement.25 Another loss that year was Daniel Gookin, the first government Indian agent of the Massachusetts Bay Colony and champion of the New England Indians. It is reported that he was widely mourned by Native Americans, who wore black face paint for him. They knew that without Gookin they would no longer receive government protection from the English.26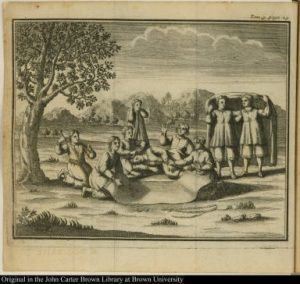 Algonquian Funeral as Described by Roger Williams: The mourning family places the body on the right side in a flexed position. The deceased is covered in a mat and interred with grave goods. A shaman (under the sacred oak) officiates.
Anecdotal evidence for a village in Gloucester is also found in the papers of Ebenezer Pool of Rockport, who in 1823 recorded his grandfather's and great grandfather's stories about an Indian village of 20 to 30 wigwams just north of Pole Hill (Huckleberry Hill on early maps) in Riverview.27 A village of that size would have had a population of between 100 and 300 individuals. Pool also wrote about the practice early colonists had of paying for land in kind in installments, mainly with bushels of Indian corn. There is a record of sale of the last Pawtucket lands on Cape Ann in 1684 in exchange for Indian corn and other commodities.28
The existence of a Native village in Riverview is also supported by the discovery in 2013 by the author of a Native astronomical observatory and ceremonial landscape on Pole Hill. The site, still under investigation, has boulder alignments for the solstices and equinox dating to between 2,000 and 4,000 years ago.29 Observation posts for lunar standstills and  the rising and setting of some bright stars and key constellations remain to be confirmed. The Algonquians were skywatchers. Villages were sited near places where shamans could observe the sun, moon, stars, and other celestial events.30 Pole Hill is described in greater detail in Chapter 7.
Summer Solstice Sunset                  Winter Solstice Sunset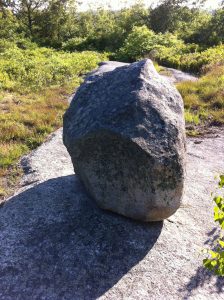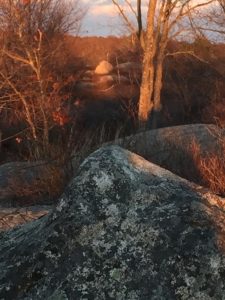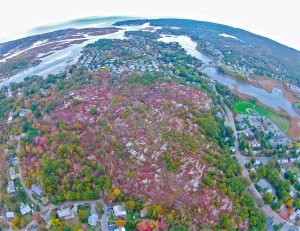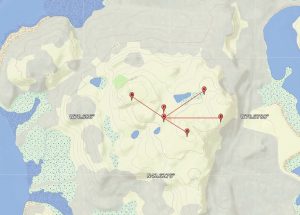 Pole Hill with Wanaskwiwam Beyond               Some Sightlines
Like Agawam, Wanaskwiwam also would have had defensive fortifications. On Cape Ann the most likely locations of Native watchtowers and forts would have included Squam Rock and Wigwam Point in Annisquam with their sightlines to the barred entrance of the Annisquam River. Governor's Hill overlooking Gloucester harbor  and the sea beyond was originally called Castle Hill and then Lookout Hill before its name was changed first to Beacon Pole Hill and then to Governor's Hill.31 Fortifications at Folly Point and the "Old Castle" site in Pigeon Cove would have protected Pawtucket living on Sandy Bay from the eastern enemies.
The Algonquians of Essex County, though widely dispersed as seasonally migrating bands, were connected with one another when they came together at their agricultural and winter villages as well as through marriage, transportation and trade, a tradition of pilgrimage, and mutual defense. All the people who distributed themselves among the river drainage systems on which life depended were connected through band exogamy, for example—a marriage rule in which women marry out of their groups and move into their husbands' bands.32 The bands were all deeply interrelated through a millennium or more of intermarriage. The Pawtucket and other eastern Algonquians thus had kinsmen all up and down the coast. The very first native person the Mayflower Pilgrims met in Plymouth in 1620, for instance, was an Abenaki sagamore from Pemaquid, Maine, on pilgrimage, who, to everyone's astonishment, spoke English. Samoset had learned English through encounters with men of the English fishing fleets coming seasonally to Monhegan Island and Casco Bay in Maine.33 Those encounters first predated the Pilgrims in New England by around 50 years.
Algonquians also were connected by an extensive system of canoe routes, portages, and trails that joined coastal and inland villages. In Essex County, trails on land included the Mystick Trail to Boston, Naumkeag Trail between Andover and Salem, Abenaki Trail to Maine, Pennacook Trail to New Hampshire and Canada, Agawam Trail between Salem and Ipswich, Squam Trail connecting Cape Ann to Salem and Ipswich, and the Wamesit Trail between Salem and Lowell. Pawtucket transportation in and around Agawam and Naumkeag and trade routes to the interior and the north, as well as warpaths, followed these trails.34 Routes 127, 1A, 133, 22, 97, and 62 began as Indian trails.35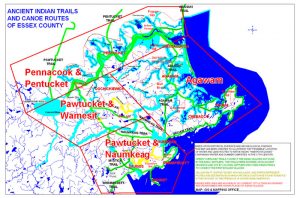 Native American Trails of Essex County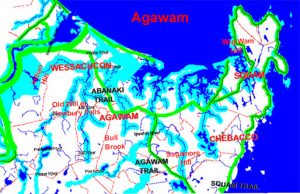 Pawtucket Trails in Agawam
Travel was by canoe wherever possible. Cape Ann is at the southern limit of birchbark canoe culture, with dugout canoes predominating further south.36 To reduce the number of portages and to protect Agawam transportation routes from exposure to the open sea, the Pawtucket cut canals between rivers and across the marshes to create an inland waterway behind Plum Island. A 3-kilometer channel through the saltmarsh connected the mouth of the Merrimack River to Plum Island Sound, for example, and another connected Essex Bay to the Jones River and thence the Annisquam River. Native canal building was reported anecdotally by Ipswich and Newbury colonists, who attempted to maintain the inland waterways for a time.37
The Pawtucket also built causeways to connect inshore and river islands to the mainland. Champlain's map shows a Native-built causeway to Rocky Neck, for example. According to one colonial account, Cow Island in the Annisquam, now part of the mainland, is another example.38 Earthworks and stoneworks are a well-documented feature of Native American culture in New England.39 The Pawtucket also strategically reduced and fortified natural causeways to create easily defended islands. Necks of land, such as Marblehead Neck, and peninsulas with narrow access were desirable as redoubts against enemy attacks. Nanepashemet's summer retreat at Marblehead Neck is an example.40 Colonists later used the river islands in husbandry to segregate (or impound) animals by species or sex—hence the names Cow Island (or Milk Island), Ram Island, Hog Island, Pound Island, and the like.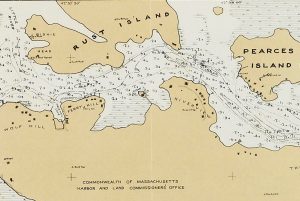 Cow Island with Indian Causeway, opposite Rust Island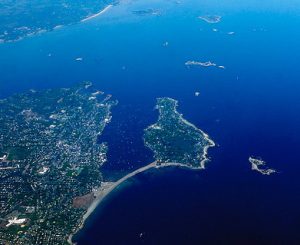 Marblehead Neck
Although the people were connected with each other in multiple ways, they did not constitute a monolithic culture, act unilaterally, or move en masse. Every family followed its own preferences and stayed or left campsites and villages at will. Before they became villagers, the Pawtucket were exclusively seasonal migrants. Each spring for about a thousand years, families left their permanent winter settlements, such as Wamesit in Lowell, and dispersed to their summer camps in Agawam and Wenesquawam to fish and later to farm .41 The Lowell-Lawrence area, the Pawtucket home base at the junctions of the Merrimack, Concord, and Shawsheen rivers, has surprising proximity to Gloucester—a day's walk. It was an easy trek of less than 30 miles by land and canoe, with portages from the Shawsheen Valley to the Parker and Ipswich rivers.42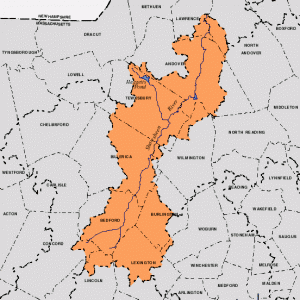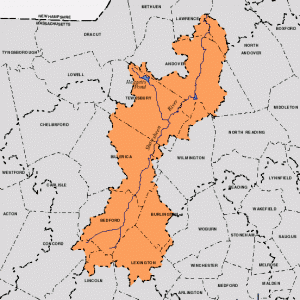 Shawsheen Watershed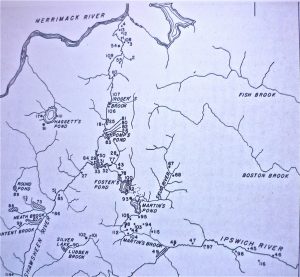 Shawsheen River
This seasonal migration between fixed points within the same small area is not the same as nomadism. Nomads are pastoralists who continually wander within a much larger territory to find fodder for the domesticated herd animals on which they depend. Native Americans of New England did not have domesticated animals, and they were not wanderers. At the same time, their villages were not strictly permanent with complete sedentism leading to city-building. The people did not build permanent structures but moved their villages within an area to take advantage of fresh soils and water supplies and seasonal subsistence and luxury resources. This mixed economy with a lack of cities and monumental architecture led early historians and anthropologists to dismiss Algonquian societies as comparatively lacking in "civilization" or "culture". Even early archaeologists regarded New England Indians as inconsequential, especially compared to the civilization builders of Mexico and Central and South America. Algonquian sites were shell heaps and burial mounds rather than temples and pyramids.43
So this was Agawam and Wenesquawam. The Pawtucket and their Algonquian ancestors and the people who preceded them came here by these coastlines, rivers, and trails over the past 11,500 years or more. The ground we live on today conceals traces of the lives of the 20 million or so other families who were here during that time hunting, foraging, fishing, digging for clams, or farming—including the Pawtucket family that according to Samuel de Champlain had a wigwam on my street in Cripple Cove on Gloucester Harbor. What else did Champlain's maps and journals show?