"Only their shell heaps and their graves" (to come)
Types of Settlement (to come)
Environmental Factors in Native Settlement Patterns
Estuaries, watersheds, river systems, and drainage basins are fundamental to understanding the history of habitation here. Essex county watersheds include the Charles River basin on the south and the Merrimack River, Salmon Falls-Piscataqua River basins on the north, and the watersheds of the rivers that empty into Ipswich Bay. Pawtucket occupied these watershed areas as well as the Merrimack's tributaries in New Hampshire and in the Worcester and Middlesex counties to the west.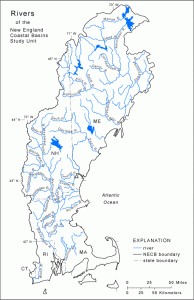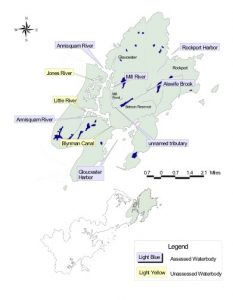 River Drainage Systems of New England and the Annisquam River Watershed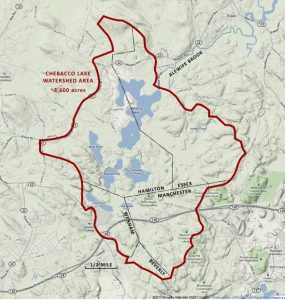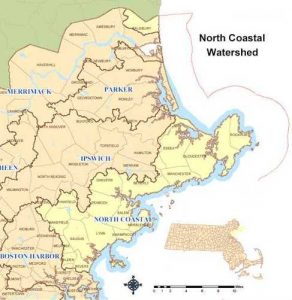 The Chebacco Watershed and an Overview of the Parker, Ipswich, and North Coastal Watersheds
According to anthropologists, land at each junction of a river with its tributary would have been occupied and used by an extended family according to hereditary right or custom or according to assignment by the sagamore or head of an alpha lineage.1 The number of people a site and its resources could support affected the size of a band and the frequency with which a group had to split off to occupy a different area or start a new band. Life depended on the rivers and their bounty, the arable upland in the intervales between the tributaries, and the interactions of the rivers with the sea. During the Late Woodland period, these same river junctions that supported hundreds of generations of seasonal migrants gradually became the sites of native agricultural villages.2
Estuaries—where the outflows of rivers and streams mix with salt water in ocean tides—are the spawning grounds or nurseries for many species of fish and shellfish. It may be less well known that estuaries also are optimal bioregions supporting the development of agriculture, because the abundant resources of that environment reduce the risk of engaging in food production.3 The supply and diversity of year-round food resources in an estuary can ensure people's survival in case of crop failure. At the same time, because of the diversity and abundance of food at hand, people living on the estuaries did not specialize in food production. More than inland people, such as the Iroquoians, who came to depend on maize for their living, the coastal Algonquians retained a mixed economy.4 They made their living by hunting, gathering, fishing, clam digging, trapping, fowling, and farming.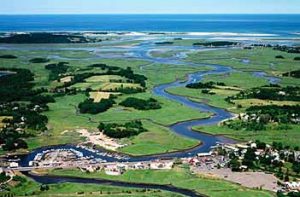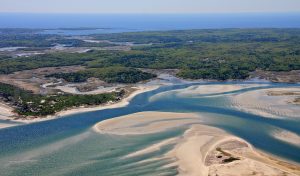 Estuaries of Essex, Ipswich, Rowley, Newbury, and Newburyport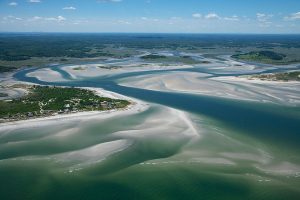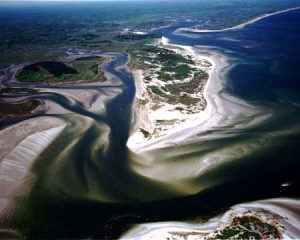 Benefits of Estuary Bioregions in Essex County
Year-round readily accessible supply of food.
Deep-sea & anadromous fish (mackerel, bass, sturgeon, salmon, haddock, herring, swordfish); shellfish (quahogs, oysters, clams, mussels); and eels.
Land & sea fowl (turkey, ducks, Great Auk, Canada Goose); marine mammals (harbor seal, porpoise, whale); small and large game (hare, otter, beaver, deer, bear, raccoon, fisher, porcupine, squirrel, etc.).
Salt marsh, fresh marsh, and abundant fresh water.
Forests and meadows for wood, bark, fibers, firewood, acorns, groundnuts, chestnuts, black walnuts, beechnuts, sassafras, herbs, plums, strawberries, blueberries, cranberries, blackberries, gooseberries, and mushrooms.
Tidal rivers, bays, and beaches for marsh grasses, cattails, sumac, wild rice, clay deposits, shellfish beds, wampum shells, canoe access, and trade routes.
Fertile riverine soils and intervales in the uplands for cultivation of corn, squashes, melons, beans, tobacco, Jerusalem artichokes, sunflowers, and other plants.
Abundant outcrops, rocks, minerals, and gemstones for shelter, stone tool manufacture, defense, astronomical observation, and trade goods.5
These environmental features relate to a state archeologist's list of criteria for the siting of Native villages in coastal Massachusetts.6
Other Locational Criteria for Village Siting
Partly submerged terrace on an outflow plain at the junction of 2 or more tidal rivers.
Less than an 8-degree slope.
Within 1,000 ft. of fresh water.
Southwest-facing intervales of stratified, undisturbed, fertile soil.
Abundant nearby sources of fuel.
North-facing soft earth overlooking water, for burial grounds.
Rock outcrops for wind and sea protection, defensive positions, and astronomical reckoning.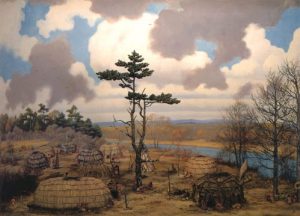 Evidence-based Late Woodland Pennacook-Abenaki seasonal village excavated at Shattuck Farm, Andover
Other major coastal villages in Massachusetts with the same siting criteria and environmental characteristics are known to have existed, for example, in Ipswich, Newbury, and Beverly. Given these locational and environmental characteristics, the process of establishing permanent agricultural villages may have proceeded naturally through steps such as the following:
Seasonal Migration: Set nets and plant corn.
Reap corn & seafood surpluses: Preserve, cache, and trade the surpluses.
Increase population size, stability, & density through secure food supply.
Increase production commensurate with increased population, with mobile farming to compensate for corn's depletion of nitrogen in the soil.
Settle year-round in permanent villages with mobile farming and seasonal resource procurement.
Maintain mixed economy with staple crop cultivation.
Agrarian life favors permanent settlement. In addition, the European fur trade, which may have involved coastal Algonquians as early as the beginning of the 15th century, favored more frequent or more permanent settlement on the coast for proximity prior to European efforts to colonize.7 Known European contact through trade predated English settlement of Cape Ann by more than a hundred years. Early French explorers found, for example, that coastal Abenaki of Maine and New Hampshire were already familiar with European fishing fleets and trade goods and even spoke a Basque-Abenaki patois as a language of trade.7
The Role of Mobile Farming
Pawtucket farms and farming villages on Cape Ann were not permanent in the way that Eurasian Neolithic villages were, which led to the building of the world's first cities. Without irrigation or extensive fertilization, Algonquian cornfields had to be moved around within an area to find fresh soil. To this end the Pawtucket practiced slash and burn or swidden agriculture—burning down forest, making cornhills among the ashes of the trees, and moving their villages as needed to be nearer to wherever their crops in a given year.8 Villages thus were mobile, such that one map may show a given village at one site while another map made at a later time may show the same village at another site a mile or so away. Algonquian agriculture is describe in more detail in the section on the Algonquians.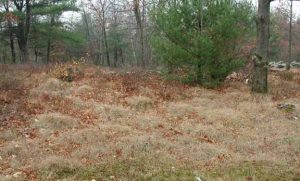 Old corn hills preserved in new-growth forest on the fringes of the Praying Indian village of Wamesit (Lowell), last abandoned in the 1700s.
The Role of Canoe Routes and Trails (to come)
New Predictive Models for Locating Settlements (to come)
Expanded Map of Indigenous villages in Essex County (to come).
Notes and References