Squaw Sachem and Passaconaway
The sachem Passaconaway's name, Pappiseconewa, meant "Child of the Bear", referring to his kin group, making him a natural-born protector of his people, a role he reluctantly (but for a time successfully) undertook during the colonial period. Passaconaway is reported to have been nearly seven feet tall, a charismatic magician and healer who answered a call to political leadership. Before he became a grand sachem, Passaconaway was a noted pawab (witch or sorcerer) as well as a powwaw (shaman), a powerful combination.40 In his account of 1637, Thomas Morton describes "entertainments" in which Passaconaway "conjured" physical feats such as juggling, appearing to swim underwater an impossible distance, and making ice in summer—complete with obscuring smoke and loud claps, common distractors in a magician's repertoire:
Papasiquineo [Passaconaway], that Sachem of Sagamore [sic], is a Powah of great estimation amongst all kind of savages there; he is at their revels (which is the time when a great company of savages meet from several parts of the country, in amity with their neighbors) has advanced his honor in his feats or juggling tricks…to the admiration of the spectators, whom he endeavored to persuade that he would go under water to the further side of a river too broad for any man to undertake with a breath, which thing he performed by swimming over, and deluding the company with casting a mist before their eyes that see him enter in and come out, but no part of the way he has been seen; likewise by our English, in the heat of all summer to make ice appear in a bowl of fair water; first, having the water set before him, he began his incantation according to their usual custom, and before the same has been ended a thick cloud has darkened the air and, on a sudden, a thunder clap has been heard that has amazed the natives; in an instant he has shown a firm piece of ice to float in the midst of the bowl in the presence of the vulgar people, which doubtless was done by the agility of Satan, his consort.41
In his account of 1639, William Wood also reports on Passaconaway's reputation for magic or "miracles":
The Indians report of one Passaconnaw, that hee can make the water burne, the rocks move, the trees dance, metamorphise himself into a flaming man. Hee will do more; for in winter, when there are no green leaves to be got, hee will burne an old one to ashes, and putting those into the water, produce a new green leaf, which you shall not only see, but substantially handle and carrie away; and make of a dead snake's skin a living snake, both to be seen, felt and heard.42
Representations of Passaconaway: Shaman, Grand Sachem 43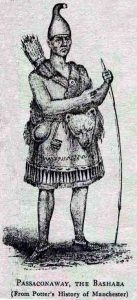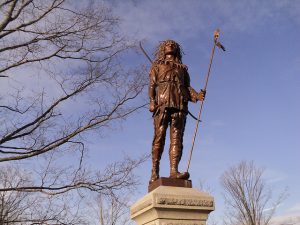 The seat of Passaconaway's confederacy was Penacook, New Hampshire, today a part of Concord, NH, but for a time in the mid-1600s he resided at Wamesit and Pawtucket Falls (Lowell) in winter and at Agawam (Ipswich) and Wenesquawam (Cape Ann) in summer. He very likely visited Gloucester Harbor, Riverview, and Annisquam. If so, the English colonists, newly arrived in 1638-1640 to settle Gloucester, did not remark upon seeing a giant chieftain striding through the saltmarshes or groves of white pine. In fact, unlike the colonists in surrounding townships, the people of Gloster Plantation seem not to have remarked upon Native Americans at all, a mystery I explore in a later chapter.44
James and Wenuchus were visiting Masconomet that day in 1631 when the Tarrantines raided and kidnapped the "bride of Pennacook". She was ransomed by Abraham Shurd of Pemaquid, an English trader who served as intermediary, for ten beaver pelts and some wampum. Wenuchus was returned unharmed to her father Passaconaway, but the marriage so famously romanticized in Whittier's poem may have come to an end when Sagamore James declined to travel to the White Mountains to retrieve her—allegedly in the belief that doing so (rather than her being brought to him) would publicly acknowledge Passaconaway's superior power. The exact chronology of these events—whether the chiefly competition occurred before or after the Tarrantine attack and kidnapping—is not clear. However, the question soon became moot. Two years later both James and his brother John were dead, victims of the smallpox epidemic of 1633.45
Nanepashemet's widow and her three young Christianized sons had attempted to take up leadership of the Pawtucket. Sagamore John (Wonohaquaham, 1600-1633) governed at Medford on the Mystic River in the south, with Sagamore James (Montowampate, 1609-1633) at Saugus River to the north, and Sagamore George (Wenepoykin, around age 4 with a regent, 1616-1684) at Salem (Naumkeag). Wenepoykin was later known to the colonists as George Rumney-Marsh, and later still as George No-Nose. When John and James died in the 1633 smallpox epidemic, English colonists (whose numbers also were reduced by smallpox) nursed and raised the surviving Indian children, mainly as servants. According to journal entries of Governor John Winthrop:
It [the epidemic] wrought much with them, that when their own people forsook them [because they themselves were too ill to care for ill relatives], yet the English came daily and ministered to them."
Some of the English in the towns around the bay took the Indian children into their homes hoping to rescue them from the smallpox. Most died, Sagamore John's son was one of the few to survive. He was taken care of by Mr. John Wilson, pastor of Boston.
February, 1634 – Such of the Indian Children as were left were taken by the English, most whereof did die of the pox soon after; three only remaining…. 46
Squaw Sachem's youngest son, George, survived, his face disfigured by the disease, but later was captured in King Philip's War in 1675 and sold as a slave to Barbados. He survived to return, miraculously, in 1684, only to die later the same year at his sister Abigail Yawata's home in Natick. For this is another true thing about history: Its events can be thrilling, uplifting, or horrifying and its people heroes, villains, or fools, but as a body of personal narratives, it is nothing if not sad.
In 1639 Squaw Sachem deeded Cambridge, Watertown, Newton, Arlington, Somerville, and Charlestown to the Massachusetts Bay Colony. Then, in 1643 as violence against Native Americans increased, she and five other leaders–including Masquenominet of Agawam and Naumkeag, Cutchamakin of Cochichewick (Andover); Josias Chickataubut of Nonantum (grandson of Chickataubut, the late grand sachem of Neponset, also lost in the smallpox epidemic of 1633); Nashacowam of Nashua, NH, a Pennacook; and Wassamagin of Wachuset, a Nipmuck–took an oath of allegiance to Massachusetts Bay Colony and King Charles I of England in exchange for protection. Passaconaway, grand sachem of the Pennacook Confederation of Abenakis, and his sons followed suit the following year.
A historic marker on Route 3 at the Winchester-Arlington line, now missing, identified "Squaw Sachem's Reservation":
Squaw Sachem of the Nipmucs sold (1639) all her people's land excepting "the ground west of the two great ponds, called the Misticke ponds, for the Indians to plant and hunt upon, and the weare [weir] above the ponds for the Indians to fish at."47
Aiden Ripley's 1924 Mural of Squaw Sachem and Her Sons 48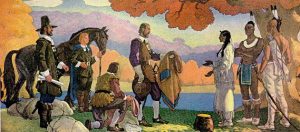 The Oath of 1644
In 1642 John Winthrop Jr. had disarmed Masquenominet's band for fear of uprisings such as had occurred a few years earlier in the Pequot War in Connecticut. Masquenominet petitioned to have their guns returned and to be given English protection from the colonists as well as from the Tarrantines. Because of population loss through disease and the loss of independent means of subsistence through the sale of their land, Masquenominet's people were moving away. Others sought to assimilate, converting to Christianity, adopting colonial dress, fencing their farms, raising cattle, and intermarrying with the colonists or their African slaves. (The Dutch had introduced slavery in North American in 1619 even before the arrival of the Mayflower.) Some Pawtucket indentured themselves to English families as servants or as apprentices in English trades or as seamen on English ships. Families who stayed faced increasing pressure from a rapid influx of English colonists, and they risked becoming wards of the state or dependent on the charity of the towns.
The protection that the sagamores and sachems sought came at a price. The oath that Squaw Sachem, Masquenominet, and the others signed in 1644 included a rider that required them to try to become Christians. Their answers to questions put to them were recorded by the Puritan cleric Richard Mather. According to an account in the Ipswich archives (similar to an account in Massachusetts Bay Colony records), dated March 8, 1644: 49
Besides four other Sagamores, Masconnomet puts himself, his subjects, and possessions under the protection and government of Massachusetts, and agrees to be instructed in the Christian religion. The following questions are submitted to these chiefs, who give the accompanying replies.
1st. Will you worship the only true God, who made heaven and earth, and not blaspheme?
Ans. "We do desire to reverence the God of the English and to speak well of Him, because we see He doth better to the English, than other gods do to others."
2d. Will you cease from swearing falsely?
Ans. "We know not what swearing is."
3d. Will you refrain from working on the Sabbath, especially within the bounds of Christian towns?
Ans. "It is easy to us, — we have not much to do any day, and we can well rest on that day."
4th. Will you honor your parents and all your superiors?
Ans. "It is our custom to do so, — for inferiors to honor superiors."
5th. Will you refrain from killing any man without just cause and just authority?
Ans. "This is good, and we desire so to do."
6th. Will you deny yourselves fornication, adultery, incest, rape, sodomy, buggery, or bestiality?
Ans. "Though some of our people do these things occasionally, yet we count them naught and do not allow them."
7th. Will you deny yourselves stealing?
Ans. "We say the same to this as to the 6th question."
8th. Will you allow your children to learn to read the word of God, so that they may know God aright and worship him in his own way?
Ans. "We will allow this as opportunity will permit, and, as the English live among us, we desire so to do."
9th. Will you refrain from idleness?
Ans. "We will."
After Masconnomet and the other chiefs had thus answered, they present the Court with twenty-six fathoms of wampum. The Court, in return, order them five coats, two yards each, of red cloth, and a pot full of wine.
So, to seal the deal the signers paid 6,240 shell beads, roughly 624 colonial dollars in value, essentially buying protection by paying tribute. In turn each was given two  yards of cloth and a pot of wine. The Puritan ministers wrote home that a new age of spreading the Gospel among the Indians had begun, and the Native Americans went home with word that a new age had begun of living under the protection of English laws. In 1644 the General Court the general court voted to allocate 100 English pounds to build up Masquenominet's fort on Castle Island. The fort was to receive the benefit of 150 tons of lumber from Nantucket, a garrison, artillery and a commander. But real security remained elusive. in 1650, for example, even after promise of English protection, Great Tom of Newbury, who had converted to Christianity and fenced his land to raise cattle, sold his farm and indentured himself, his family, and his heirs for all time to three settlers of that town: William Gerrish, Abraham Toppan, an Anthony Somerby.50
The Oath of 1644 was a test of religious faith based mainly on the Ten Commandments, the contents of which are sufficiently universal to be unsurprising to the Native Americans who answered to it. Most societies have similar definitions of right behavior. Deeper differences of understanding divided them, however, for Native American spiritualism was not based on the underlying idea that people are inherently base or wicked and need to be saved through good deeds or divine intervention.
John Winthop, John Winthrop Jr., and Richard Mather 51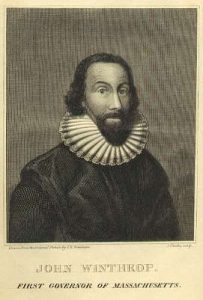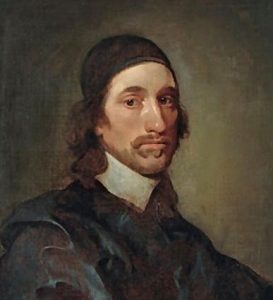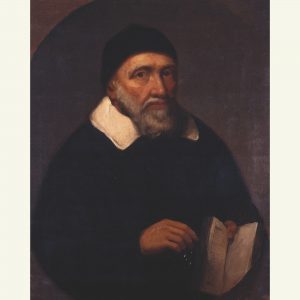 During Masquenominet's time the Pawtucket enjoyed largely peaceful relations with the people of Massachusetts Bay Colony. In 1658 the town of Ipswich appreciatively deeded 6 acres of land to him. He died later the same year, and in 1665 the same land was granted to his widow. He is remembered today in local place names as Masconomet and through observances at his known burial site on Sagamore Hill in South Hamilton, which has come under the protection of the Essex County Greenbelt Association. Masconomet's Christian western-style gravesite (Algonquians traditionally hid their burials from view) is marked by an inscribed headstone and maintained by caretakers. People visit this public site today to leave tokens of respect.52
Masconomet's Burial Site at Sagamore Hill in South Hamilton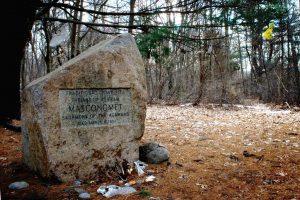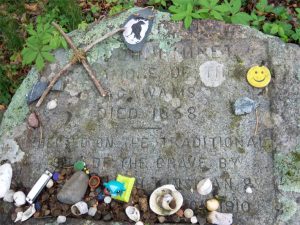 Masconomet had baptized his children and given them English names. It is Masconomet's grandson, Sagamore Samuel English, who deeded Gloucester-Essex (10,000 acres) to its settlers for £7 on January 14, 1701. The payment was a final installment in cash for land that Gloucester had rented from the Native Americans of Cape Ann since 1642 in exchange for bushel baskets of Indian corn. The cash payment was ordered by the General Court of the Mass. Bay Colony, for Masconomet's heirs had brought suit against Gloucester for unpaid back rent, and won.53
The need for "Agawam" to be re-deeded at the end of the 17th century, as explained in another chapter, stemmed from the fact that each township later carved out of that area needed clear legal title to its own bounded territory. Between 1686 and 1701 Samuel English and Masconomet's other grandchildren also signed quitclaim deeds to Beverly, Boxford, Manchester, Rowley, Topsfield, and Wenham. Their grandfather's decision to "sell" Agawam had occurred in the context of appropriations of land by the well-armed English founders of Ipswich, on the heels of a wave of catastrophic disease. Contributing factors also included the Iroquois and Tarrantine threats; the ongoing need for protection against both enemies and colonists, reflected in the Oath of 1644; and the complexities of post-Nanepashemet domestic politics under Passaconaway.54
Widowed a second time, Squaw Sachem retired first to Naumkeag with her youngest son Sagamore George, and then to Medford, where she died of old age in 1667 at a site that is now somewhere on the grounds of the Winchester Country Club. Her family, Christians all, was removed to the Praying Indian village of Natick. In 1675, her descendants at Natick were among the 500 or so Praying Indians interned on Deer Island in Boston Harbor for the duration of King Philip's War, where many died of exposure and starvation.55
It is debated whether Passaconaway ever converted to Christianity, as his sons did. In 1648 he invited the "Missionary to the Indians", John Eliot, to Pawtucket Falls to preach to the Pennacook, Pawtucket, and Nipmuc. Eliot, and Daniel Gookin, Superintendent of Indians for the Massachusetts Bay Colony, were intent on creating a chain of Praying Indian villages on the English frontier for Christian converts. Indian wise men had noted that the Christian god seemed more powerful than the Great Spirit, as Passaconaway implies in his famous farewell speech, allegedly witnessed and recorded by one or more unidentified Englishmen at Pawtucket Falls in 1660. That year, having survived disease epidemics, Mohawk wars, misunderstandings in which he had to pay ransom to free his sons from English jails, and various hostilities by colonists and native enemies, Passaconaway abdicated his authority and leadership to his son Wonalancet. He died sometime between 1663 and 1669 at an unknown location in the White Mountains.56
Passaconaway's Farewell Address
There is something about the rhetoric of farewell addresses and their forewarnings, sooner or later borne out, it seems. Passaconaway's speech is in the genre of Eisenhower's warning about the military industrial complex or MacArthur's about the threat of Asian ascendancy. I've chosen the oldest and most authentic sounding version of the oratory I could find, although they no doubt are all melodramas based on hearsay.
Hearken to the words of your father. I am an old oak, that has withstood the storms of more than a hundred winters. Leaves and branches have been stripped from me by the winds and frosts, — my eyes are dim, — my limbs totter, — I must soon fall! But when young and sturdy, when my bow no young man of the Pennacook could bend, — when my arrows would pierce a deer at a hundred yards, and 1 could bury my hatchet in a sapling to the eye, — no wigwam had so many furs, no pole so many scalp-locks, as Passaconaway's. Then I delighted in war. The whoop of the Pennacook was heard on the Mohawk, — and no voice so loud as Passaconaway's. The scalps upon the pole of my wigwam told the story of Mohawk suffering. The oak will soon break before the whirlwind,—it shivers and shakes even now; soon its trunk will be prostrate, — the ant and the worm will sport upon it. Then think, my children, of what I say. I commune with the Great Spirit. He whispers to me now: "Tell your people, Peace — peace is the only hope of your race. I have given fire and thunder to the pale-faces for weapons,— I have made them plentier than the leaves of the forest; and still shall they increase. These meadows they shall turn with the plough, — these forests shall fall by the axe, — the pale-faces shall live upon your hunting-grounds, and make their villages upon your fishing-places." The Great Spirit says this, and it must be so! We are few and powerless before them! We must bend before the storm! The wind blows hard! The old oak trembles, its branches are gone, its sap is frozen, it bends. It falls! Peace, peace, with the white man—is the command of the Great Spirit; and the wish, — the last wish—of Passaconaway.57
Wonalancet honored his father's wish for peace, despite many provocations, but not his brother Kancamagus, who devoted his life to making war on the English.
Children in the colonial era were taught that the Indians' Great Spirit was an avatar of Satan. Children today are taught that the Great Spirit is a version of the Christian God. How far from the truth are both these ideas? How—really—and how much did Algonquian perspectives on death and life and the sacred and the profane diverge from European perspectives? This question frames my next chapter.
NEXT:  Chapter 7 Notes and References