Wenesquawam and Winniahdin
Annisquam most likely came not from Wonasquam but from Wanaskwiwam, first transcribed as Wenesquawam. This name appears in an ancient document in the archives of the British Library, written by an unknown English explorer sometime between 1600 and 1610. The document is known as "Ye Names of ye Rivers and ye Sagamores yte Inhabit Upon Them", and it describes the larger tidal rivers from the Kennebec to the Annisquam, along with the names of their principal village or sagamore at the time. Often, a village on the river and the river itself bore the same name, and that was the case with Wenesquawam. Today the native village no longer exists (its location at that time most likely was in Riverview, Gloucester, north of Pole Hill, as attested in the historical memoirs of Ebenezer Pool of Rockport), but the modern Annisquam remains as the name of both the river and the peninsula guarding its entrance. 20
Wenesquawam
Western Abenaki Wenesqu = Wenesk(w) =
Wanask(w) = the end, as in
wanaskwigwen = "end feather of a wing"
wanaskwizida = "end of the foot; toes" +
wam = "land overflowed with water; marsh" =
Wanaskwiwam = "end of the marsh" =
Wenesquawam = Wonasquam = Annisquam = Squam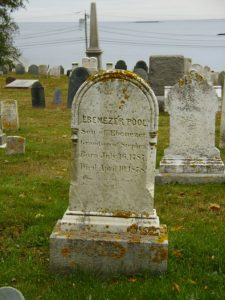 Ebenzer Pool recorded his grandfather's stories about the large Indian village in Riverview north of Poles Hill.
Today some regional place names such as Agawam (Ipswich) and Chebacco (Essex, which the Pawtucket pronounced Jebacho) survive as the names of companies, teams, parks, lakes, or neighborhoods.
Chebacco
Cheb/chebbe = "in between"
acco = "continuous area"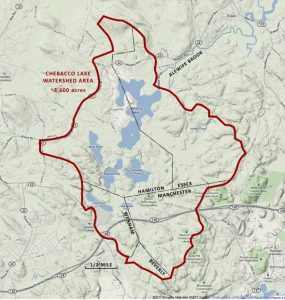 The most likely meaning of the Chebacco place name is "Continuous area [including the lake by that name and the headwaters of the Essex River] in between [the Ipswich and Annisquam river drainages]".
Many other names are lost to time or are repeated despite remaining mysterious. Winniahdin, for example, is the name of an 1890 residential development, originally for summer cottages, on Stanwood Point on Little River between "The Cut" on the Annisquam and the Boston & Maine (MBTA) train line on Little River in West Gloucester. The development's street names commemorate Native American leaders—Massasoit and Samoset from Mayflower times, Uncas and Canonicus from the Pequot War, and King Philip from his Wampanoag War. An early map ambiguously gives the name Winniahdin to the entire west bank of the Annisquam from the Cut to Little River. 21
1890 Map of Cottage Lots in Winniahdin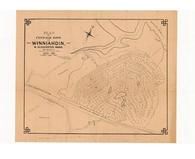 Winniahdin
Winni = In the vicinity of
ahdin = the mountain
In Abenaki, as noted earlier, win/winni means "hereabouts" or "in the vicinity of", and the root ahdin/aden/adn denotes "mountain" or "heights", rendering "In the vicinity of the mountain" or "There is a mountain hereabouts". Considering the immediate terrain on the banks of the Annisquam at Little River, the meaning of this rather prosaic name may be hard to imagine. Consider, however, the steeper elevations of  "The Heights" and the Banjo Ponds—just across the road from the railroad tracks and Rte. 133—and Mt. Ann (or Thomson's Mountain), the source of Little River, just to the west. As the highest point of Cape Ann, Mt. Ann  would have had special significance to the Pawtucket, making Winniahdin an apt name for this location.